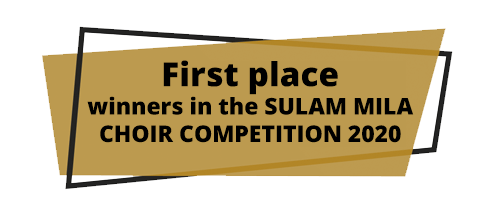 Established in November, 1994, "Jeanne Rabin's Ensemble" has consistently been an outstanding group on the Israeli choir scene in its level of performance, its repertoire, and in its energy. Being one of the most popular and sought after groups in Israel, "The Ensemble" has had innumerable performances of every sort and has participated in various festivals (including "Abu Ghosh" and "Festival Arad"), competitions (winners of "Shirat HaAretz 2001" and gold diploma recipients at "Sulam Mila 2002, 2004, 2006), official Israeli national and municipal events as well as a long list of private productions. Their repertoire leaning is towards "pop" (songs by the Beatles, Sting, Queen, Billy Joel, Aretha Franklin…), Israeli oldies and modern Hebrew "classics" which contain that "special something": On this list can be found songs by Shalom Hanoch, Yoni Rechter, Daniel Salomon, Yonathan Razel, and Yaruslav Yakobovitch. The "Ensemble" specializes in musicals (selections from "West Side Story", "Phantom of the Opera", "Guys and Dolls" and "Rent"), jazz favorites (Brazilian – Jobim, Vinicius, Bonfa – and American – Gershwin, Berlin), swing and even blues. Yiddish? We got it. Eurovision? Bach? But of course!
The format and textures of the arrangements are varied: most songs are performed by the choir (some thirty singers) as a whole in five part harmony, but some numbers are just for the women, some for the men, and in some, Jeanne sings solo and is accompanied by the group. In this category you can find "Lady Madonna", "Eres Tu", "Kan HaBayit", "Natural Woman" and Elton John's "Border Song".
"The Ensemble" periodically welcomes new singers into its ranks. Prerequisites: a good voice, rhythm, a love of international pop and jazz, previous singing experience and a fun-loving attitude! Note reading an asset. Interested? Contact us!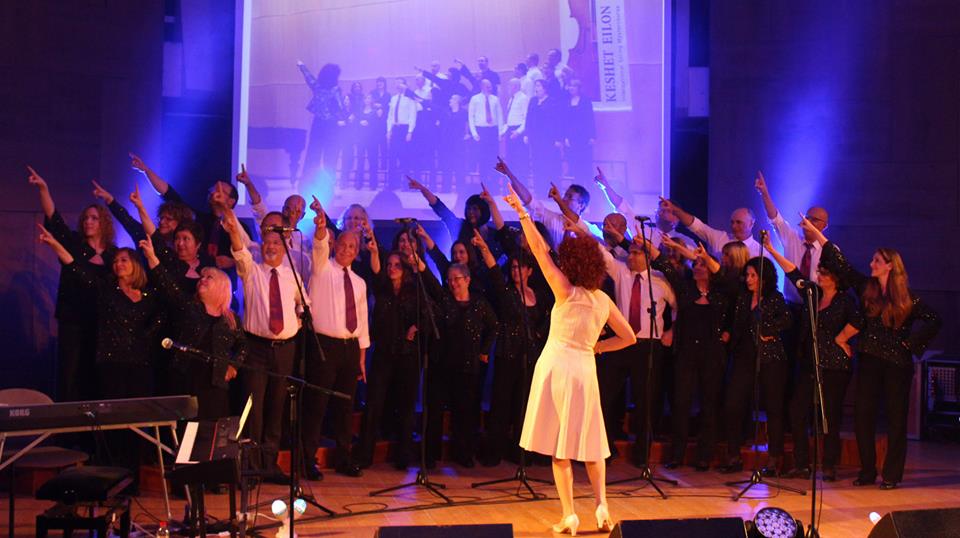 THE HIGHLIGHTS
first mini album (four songs), "Jeanne Rabin's Ensemble" – recorded in 1998
Guest appearance on the popular Israeli T.V. show, "The Chartzufim"
October, 2000 – our enormously successful tour of Germany (performances in Leverkusen, Opladen, Dusseldorf) as guests of the Leverkusen Music School, including shows within the framework of the Leverkusen Jazz Festival.
2001 – "Zeh Barur" recording (lyrics: Eliooz Rabin, music: Jeanne Rabin) as part of the joint CD album of "Shirat HaAretz" competition winners.
In addition, "The Ensemble" participated in the recording of "Seret Tchelet" ("These Blue Ribbons" by Pnina Isseroff, arranged by Jeanne Rabin), a song dedicated to the families of the captured and missing soldiers of Israel.
The pharmaceutical company, "Teva", a great patron of the arts, found the "Ensemble" worthy of a very generous grant, which has been put towards the recording of their second CD album (2005), entitled "TEN".
In 2005 "The Ensemble" began a challenging and fruitful collaboration with the "Big Zbang" (big band), conducted by Sasha Kanzberg under the titles, "It Takes Two To … Swing", and "Singin' and Swingin' Again!"
2008 – Brought home the silver medal from the "World Choir Olympics, Graz 2008", the most prestigious international competition in the world. An experience all will remember!
June, 2009 – "Duet Again" – an evening with guest artist Uzi Fox, singing Joe Cocker hits.
June, 2010 – "Tea For Two" – Jeanne Rabin and her "Ensemble" meet Dudi Sebba and "Shiran": a special co-production.
– September, 2010 – Third place in the "Zemer Lach Artzi" choir competition, after preliminaries in Kadima, semi-finals in Sderot, an exhibition performance in the Jerusalem Theatre and the finals in Nazareth Illit.
– September, 2010 – FIRST place (gold ranking) in the "Sulam Mila" national choir rankings. The judges who awarded them the honor were Dr. Michael Wolpe, Aharon Harlap, Naomi Faran and Eldad Shrem.
– June, 2011 – "Fascinatin' Rhythm" – Jeanne Rabin and the "Ensemble" share the stage with vibraphone virtuoso and percussionist, Rami Shuler (see clip)
 
June 2020 – "The Ensemble & Rosh Tov" – Two of Jeanne Rabin's choirs join forces to perform both together and separately. Guest artist: Giba Perlman
July 2013 – "Let's Groove Tonight" – The Ensemble hosts the amazing cover band "Groovitazia" (led by her sons, Eden and Lee Rabin,with Dana Rabin as soloist).
June 2014 – "The Alta Pusteria 17th International Choir Festival". The Ensemble receives the honor of performing at both the opening and closing ceremonies.
July 4, 2016 – "Four on the Fourth" – Four fabulous vocal groups (Jeanne Rabin's Ensemble, Carmel Acapella, HaKol Dvash and Resonance) celebrate America's Independence Day in song.
July, 2017 – Participation in the 3rd European Choir Games, Riga, Latvia.
January, 2018 – Winner of the "Audience Choice" prize at MILA Dead Sea Choir Festival awarding studio time to record two songs: "Shetach HaHefker" and "Don't Stop Me Now" at Tamuz Studios (Raz Burg).
August, 2018 – Gala performance at the Zimriya 2018 celebrating 70 years of Israeli song, "Totzeret HaAretz" ("Made in Israel") with guest artist, Rami Shuler, including four original choir compositions by Jeanne Rabin to lyrics by Eliooz Rabin. January 2019 – repeat performance at MILA's Dead Sea Festival.
June 2019 – "Totzeret HaAretz – Totzeret Chutz" ("Made in Israel, Made Abroad") production at Ra'anana Music and Arts Center, with guest artists Rami Shuler and Moran Gamliel.
October, 2019 – Performance tour to Poznan and Raszkow, Poland, as guests of the Ensemble INSPIRO, conducted by Aleksandra Wojtaszek.
February 2020 – First place winners of the Sulam Mila 2020 Choir Competition, with gold ranking awarding direct entrance to international choir competition finals.
A Day in the Life of a Fool